Arizona Coyotes Central Division Move Presents Exciting Opportunities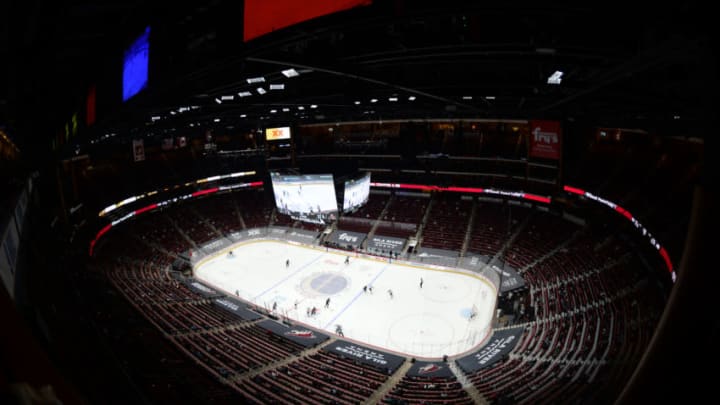 Mandatory Credit: Joe Camporeale-USA TODAY Sports /

The Arizona Coyotes' move to the NHL's Central Division for the 2021-22 season is just one of many challenges facing the team.
Hope will spring eternal with visions of Stanley Cup championships for the Arizona Coyotes and the rest of the NHL's teams as they prepare for a shiny new season that opens in October. A full 82-game schedule will give them a chance to play one another at least once at each site rather than play the same 7 teams over and over again, and that in itself will bring its own set of exciting challenges.
The Arizona Coyotes can say goodbye to the Vegas Golden Knights, Anaheim Ducks, San Jose Sharks, and the Los Angeles Kings as division rivals because those teams will be joined by the Seattle Kraken in the Pacific Division. Instead, their new division rivals will be the Chicago BlackHawks, Colorado Avalanche, Dallas Stars, Minnesota Wild, Nashville Predators, St. Louis Blues, and the Winnipeg Jets. The Coyotes will welcome their opportunity to compete with those teams with a revamped roster that is anticipated to have significant changes to it by opening night.
There was an advantage to playing the Avalanche, Wild, and Blues so much in that the Coyotes and their fans were able to learn quite a bit about those teams' rosters and their style of play. Granted, there will be changes to all teams by October, but their nuclei will remain intact. It will be the BlackHawks, Stars, Jets, and the Predators that will be somewhat foreign to the Desert Dogs, yet they can get at least get glimpses of the Preds and Jets because those two clubs are participating in the playoffs.
The Arizona Coyotes 2021-22 initial season roster, of course, will not be fully assembled until General Manager Bill Armstrong selects a new head coach to replace the departing Rick Tocchet. Will the Coyotes organization seek an established coach with NHL experience, or a younger, "up and coming" coach with a new perspective and set of ideas for what will most likely be a much younger squad? Time will tell.
The mutually agreed upon departure of Coach Tocchet is the first domino to fall and the first of many other changes to the Coyotes organization in an attempt to improve the team and put a consistently-competitive team on the ice. It is well known that the team is handcuffed by its lack of draft choices, but there will be money available to spend on free agents or other available players worth considering as upgrades to the roster.
It is an exciting time to be an Arizona Coyotes fan, and they will be putting their trust and faith into GMBA to hire the right coach to help steer the team in the right direction. Things are afoot behind the scenes and, in the meantime, we should all enjoy the craziness of the NHL playoffs!