Arizona Coyotes 2015-16 Player Grades: Michael Stone
With the Arizona Coyotes 2015-16 season complete, it's time to dive into each player's performance and make a final tally on how they fared this season.
Few players on the Arizona Coyotes roster are capable of eliciting a 'Jekyll and Hyde' comparison quite like 6'3 defender Michael Stone. Perhaps Mike Smith is another.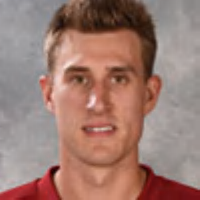 MICHAEL STONE
D,
Arizona Coyotes
C+
The 26-year-old Winnipeg native has a prodigious shot and has turned into a real asset for the Coyotes in the offensive end.
He churned out 36 points (6 goals and 30 assists) in 2015-16, which smashed his career high total of 21 points from two seasons ago. He was also one of the better possession players on a team that was horrible in that regard.
Mr. Stone contributed some memorable moments, as well, like his buzzer beater in Philadelphia late in the season.
He has a knack for responding to bad performances with strong showings, including a strong effort against the Anaheim Ducks after one of the worst nights of his professional career in his hometown of Winnipeg the game prior.
Some nights he's helping out the offense with assists and solid play. On other nights he's a defensive liability and no amount of offensive upside can dig the team back out of the holes an early or ill-timed goal creates.
Stone's lack of foot speed causes him to get caught out at times. Couple that with occasional lapses in judgement and we can see how he contributed in part to what was easily one of the worst defensive corps in the National Hockey League.
That's not all on Stone, to be sure, but there's a reason Connor Murphy held down the top pairing with Oliver Edman-Larsson despite #26 getting first crack at it early in the season.
The issues in Stone's game are mirrored in the issues we see with the nature of the Coyotes' defensive corps as a whole.
The roster is chock full of guys who are flawed in some form or fashion that are, for better or worse, being forced to play above their level and the results can be ugly.
On any given night, the Arizona Coyotes are typically dressing at least four bottom pairing or worse defenseman. That means each night at least two guys are playing above their heads, and at times Michael Stone was one of those guys.
Stone is a restricted free agent this summer.
His previous contract paid him 1.45M in the final season of a three year deal, so it will be interesting to watch where the Yotes and new general manager John Chayka attempt to slot the defender in.
That is, of course, assuming the Arizona Coyotes are bringing Michael Stone back. And they should.
Stone, Kevin Connauton, OEL, and Connor Murphy should be patrolling the blue line next season at Gila River Arena.
That leaves a spot for aging defenseman Zbynek Michalek, as well as a potential free agent or trade pickup by Chayka this summer.
Stone is not without his flaws, but he does serve a purpose on Dave Tippett's blue line.
Assuming his return from the knee injury goes well, he's someone I'd be keen on Chayka and Tipp keeping around.